The earthquake last night (10/7) was big and terrified. Is the nuclear power plant okay every time by earthquake? The anxiety goes through our mind.
 The Regular Learning Session in November is an online lecture with Atsuo Watanabe as a lecturer, "Why do not restart the aging nuclear power plant", which is directly linked to such anxiety. The Tokai No. 2 nuclear power plant has passed its forty year service life, but is trying to restart the plant by extending it by twenty years. What is dangerous in aging nuclear power plants? Let's learn together.
*When: Saturday, November 6, 10:00 a.m. to 12:00 p.m.
*Method: Online lecture by zoom
*Title: "Reasons for not restarting aging nuclear power plants"
*Lecturer: Atsuo Watanabe (former nuclear reactor designer)
*How to participate: At 9:30 a.m. on the day, we will post the URL necessary to participate by zoom at the top of the website.
We sincerely look forward to your participation.
 If you have difficulty accessing online, please come directly to Hakaruwakaru Hiroba by 10:00 a.m.
If you have any questions or comments, please contact Hakaruwakaru Hiroba
Tel: 042-686-0820, Email: hachisoku@gmail.com

Hakaruwakaru Hiroba
2021.10.8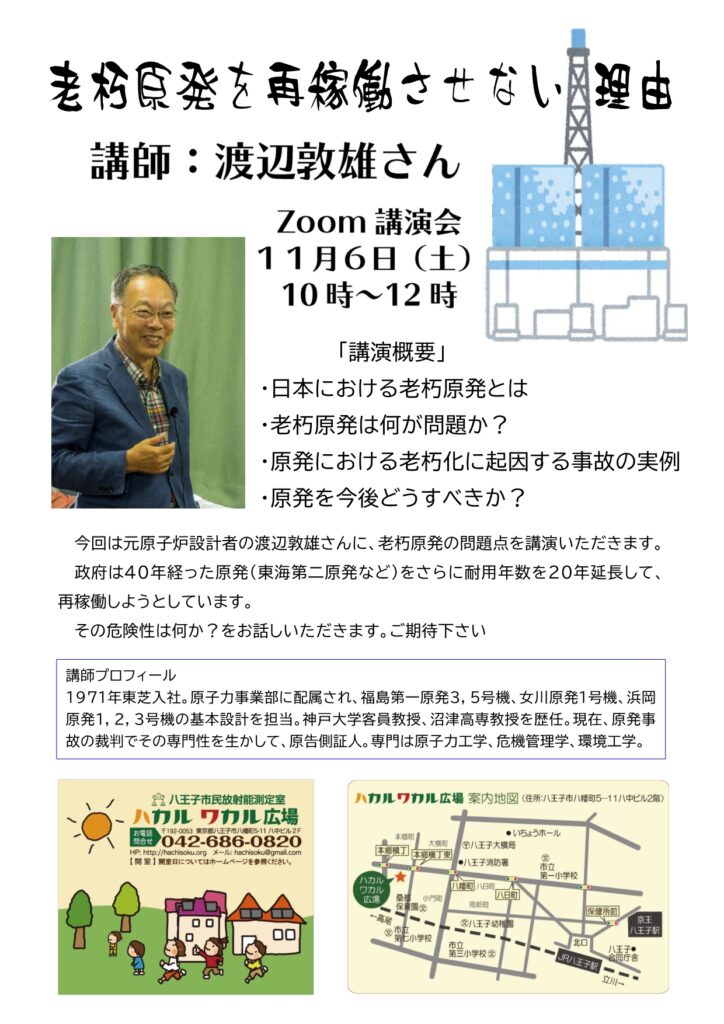 Download the flyer "Why do not restart aging nuclear power plants" flyer